Getaway Survival Cabins
& Emergency Survival Supplies




Getaway survival cabins come in all shapes and sizes, many of which can accomodate even a modest budget. Location and provisioning is more important than size.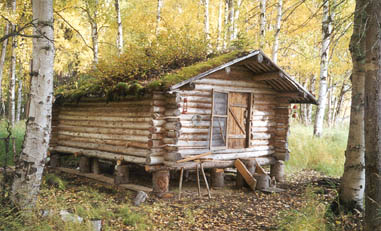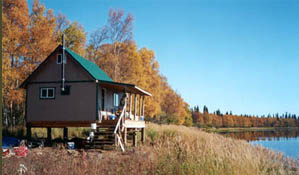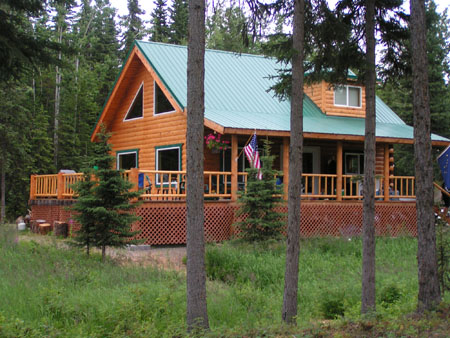 In a disaster situation, cities can become very unfriendly very quickly. A prolonged interruption in the delivery of food, water and/or energy to city dwellers can turn a certain percentage of them into looters or worse. In such a situation, it is obviously advisable to head for "the hills". While an individual or family could seek rural shelter in a tent or even in their automobile if necessary, it is clearly a better long term option to own, or have available, a getaway cabin, cottage or other permanent structure with prepositioned survival food and supplies. The more remote cabins and homesteads are preferred.

As any outdoorsman will attest, the worst cabin is better than the best tent!
In selecting a location for your getaway cabin, you should consider the following factors:
- Is it close to a dependable water supply?
- Is it sufficiently secluded to provide a safe haven?
- How difficult is it to get there from your home?
- Are there natural subsistence resources in the area (fish and game)?
- Are there any inherent dangers in the location (flood zone, etc.)?
- Is there a place for a garden on the property?

Survival supplies you should store at your getaway cabin.
Having a safe supply of water, food (plus ways to store and cook it), heat and light are the necessary basics to survive in your getaway cabin and overcome any disaster. For communication and otherwise, there is also a need for a certain amount of electricity in today's world, particularly in emergency survival situations. Generators or solar power should be considered to power emergency radios and other survival tools and equipment.
List of Basic Cabin Survival Supplies and Equipment
1. Items in your "But Out Bag" ; PLUS
2. Generator and/or solar panels of sufficient size to power your basic household electrical needs.
3. Basic tools, axe, duct tape and a chain saw;
4. Extra gasoline with stabilizer added, propane, and cut wood
5. Coleman type gas or propane lantern and extra mantels; candels; and backup oil lamp and oil.
6. Sleeping bags
7. Coleman type 2 or 3 burner dual fuel stove or propane stove.
8. Food & Water:
-water, as much as you can reasonably store;
-food, minimum 3 months supply oriented to those foods with a longer shelf life
( rotating storage food is highly recommended ).
9. Home defense weapon (s)
10. Large size First Aid Kit, medicines, dust masks, and water purifier
11. Cell phone;
12. Crank type shortwave radio with cell phone charger.
13. Galvanized aluminum or steel garbage can to act as a Faraday Cage to protect key electronics.
14. Flashlights and various size batteries.
15. Cash. Smaller denominations.
16. Trade goods. (eg. ammo, alcoholic beverages, toilet paper, etc.)

See our suggested basic survival foods with a relatively long shelf life. Some of the items which can be stored in your cabin are:

1/ White Rice and dried beans
2/ Dried milk
3/ Pilot bread
4/ Honey
5/ Freeze dried meals and MREs from Mountain House and the like
6/ Salt & Pepper/ Sugar/ yeast/ baking powder/ baking soda
7/ Coffee or Tea in vacuum sealed cans
8/ Canned spam/ canned vegitables/ and fruit
9/ Pasta / spaghetti
10/ Olive oil
11/ Jams and other preserves
12/ Multi-Vitamins

Of course, in addition to the basics, your getaway cabin should contain items for self defense and first aid supplies. Long term food storage containers are available commercially as well as poly buckets full of grains, beans, seeds, legumes and other emergency supplies.